From Sydney to Singapore: Why we're taking the sextech hackathon to Singapore in 3 weeks
Local issues = local solutions: Local issues require local solutions for sexuality issues, ie. poor sex education can be improved with technology, but also needs cultural context to work
Sextech is a $30 billion global industry: Sextech, the intersection of sex and technology, is a $30 billion industry aiming to solve and enhance issues with sex and sexuality, but it needs a global, diverse perspective
Sextech hackathons connect local innovators with global opportunity: A pathway for better innovation and diversity in the sextech industry = hackathons
Join us in Singapore for Asia's first Sextech Hackathon, May 18–20
In every society, there are undercurrents we don't talk about.
Sex is almost universally one of them.
The ramifications of creating an unspoken culture around sex is that critical information on protection and health is also ignored or driven underground. When shame and stigma prevent us from updating education or addressing the impact or ethics of new technology, the effects ripple out across individual health, and then more broadly across populations and economies.
The real world reality of this is reflected in everything from a nation's birth rate to crime and violence statistics.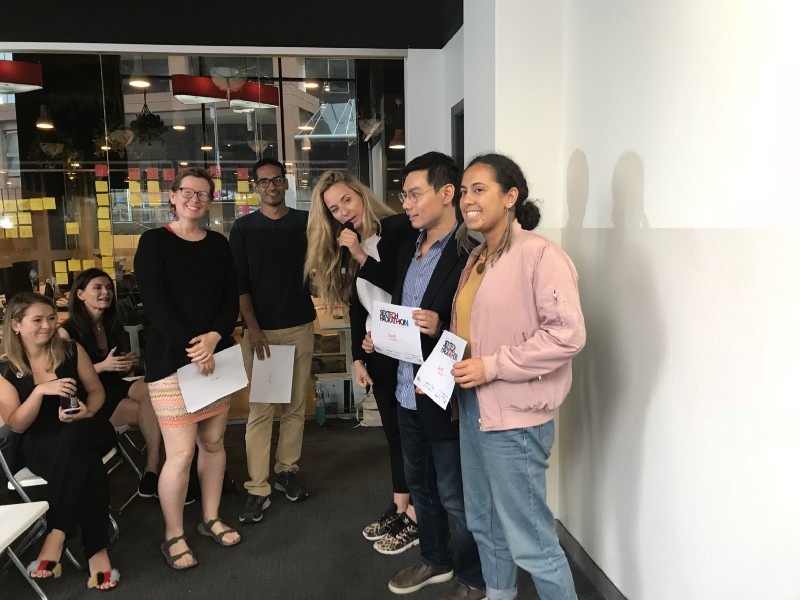 Lighting pitches set the scene
Lessons from Australia's first sextech hackathon
For all its openness, Australia is emblematic of this challenge. It is the only first-world country where syphilis is considered an epidemic. A disease that was once considered largely under control has now become both a public — and very private — health issue.
The challenges in this field are not just sexually transmitted, but socially transmitted.
With the rise of social media, this unspoken culture has created a situation where one in five Australians have fallen victim to "revenge-porn" (image-based abuse). While social media was once touted as a "conversational media", discussions about ethics, rights and sexuality are largely silent. Clearly there is a need to create public and private spaces where these "taboo topics" can be brought to light, explored and challenged.
In March of this year, Future of Sex and Disruptor's Handbook produced Australia's first ever sextech hackathon to do just that. The hackathon was a chance to examine national issues around sexuality and how we might use technology to solve them.
With around 100 participants divided into 14 teams, the hackathon came up with thoughtful, innovative concepts to the challenges ranging from sex education and accessibility to relationship counselling, telehealth and product packaging. The teams worked with very specific groups across Australia during the weekend to prove out their assumptions, including international Chinese students seeking sexual health services, teenage girls beginning menstruation and LGBTQI youth needing advice and support.
The Australian hackathon attracted a large number of women (90%) from a variety of professional backgrounds including therapy, engineering, medicine, design. For taboo areas like sex, hackathons are a great way to experiment and investigate a cultural underbelly and engage a cross-section of the local community to shape meaningful solutions.
Our Sextech hackathons deliver on two of our core promises:
Creating pathways for people of all backgrounds and genders and encouraging more diverse voices to be a part of the burgeoning sextech industry.
Creating opportunities to be part of a future leadership on sexual health and education at a local level
You can join us for Asia's first sextech hackathon in Singapore
In 3 weeks, May 18–20 we will take the same model to Singapore, a sextech hackathon exploring the diversity and complexity of issues of gender and sexuality in contemporary Asia.
In partnership with SPARKFest, Asia's Sexual Health and Wellness festival, participants of the hackathon will have access to the amazing speakers and mentors taking part in SPARKFest. With the region's sexual health and wellness resources and leaders all participating, there is no better time and place to join us for Asia's first sextech hackathon.
The participants at the Future of Sex hackathon in Singapore will be pioneers in a new and exciting industry setting the agenda for human experience and sexuality in the 21st Century and beyond.
Hope to see you there!